January 5, 1999 - Summons to Joplin
Yesterday, shortly after I'd dispatched myself from Memphis, TN to Laredo, TX using the automated system known as Highwaymaster, I received a message back from my dispatcher telling me that when I got to Laredo, they were planning to get me a load going to Joplin, our corporate headquarters, to trade in my truck. I'm assuming I will get a brand new truck, since I have had my 1994 Kenworth T-600 since it was new five years ago. Our new trucks are Kenworth T-2000 models, and as I understand it, they all have automatic transmissions.
I'm not sure how I will like having an automatic after all these years. Shifting can really wear you out in heavy city traffic, but still I think I can "get through the gears" faster with a manual transmission. No matter, I will try it. I'm just glad to be finally getting a truck with an engine brake.
I expect to be heading out within the hour. Count on an update when I get to Joplin.
January 8 - Hell Freezes Over
It's 21 degrees with freezing drizzle as I write this, with a solid sheet of ice covering the parking lot here at headquarters.
I arrived in Joplin on the night of the sixth without incident, and reported in and was told to check in when I had gotten my new truck. At that time I went to bed, still thinking I might not be getting a brand new truck, but rather just "another" truck. I got up the next day and went to the equipment manager and was indeed assigned a brand new truck, a 1999 Kenworth T-2000 with 31 miles on it. The truck is very nice, as it has an automatic transmission, and power windows. It has more room than the old one in some areas, less in others. It took me 8 hours to move all my junk from one truck to the other, and it was 2:30 a.m. when I finished. The stuff was not put away, just moved. Now it's all in bags and piled around on the floor of the truck.
One really nice feature of the new truck is the fact that KW has finally figured out how to do the air conditioning and heating as well as a typical automobile. The AC controls in the sleeper now feature a 4-speed fan and a real temperature control. It's so quiet on low, you can hardly hear it. This is a welcome change. On the other hand, the mattress on the bunk is totally inadequate.
The automatic transmission in a big-truck is something new to me. At this point I have only toured the parking lot with it, but I will have more detailed comments about it after I've had it out on the road. The transmission is an Eaton Autoshift, a ten speed.
January 11 - Shakedown Cruise
Left Joplin with the new truck, with a relay to St. Louis, with great concern over road conditions, but it turned out the roads were fine. The new truck was not. Sounded like it had a leak in the turbo system but it seemed to quiet down about half way to St. Louis, and then the turn signals quit working after about 2 hours. Got to St. Louis on time and spent the next day at the Kenworth dealer getting repaired. That was Saturday, and I've been here all weekend now, as freight is very slow.
January 13 - Not Ready for Prime Time
For the second time in the first week of having the new truck, it's in the shop again, and this time I had to spend the night in a motel, after it suddenly blew all the panel lights yesterday. Here in the Detroit area, it looks like a blizzard while down south, people are enjoying more moderate temperatures. I'm very disappointed that this new truck has so many problems, especially since this is Kenworth's "flagship" product. I will do a detailed review of the truck, but I want to wait until things settle down.
January 18 - At the Giant, en route
I'm at the world famous Giant Truck Stop in New Mexico, grabbing a bite to eat, and checking my mail. (below)
January 19 - The Waiting Game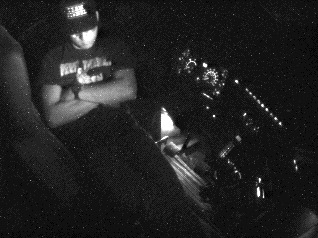 -->>>>
I unloaded last night in Phoenix and got on the board, and today I sat all day at the truckstop. Freight is really slow right now, and tension is high among all these drivers sitting around with nothing to do. I took my tractor through the truck wash, so I could finally get a picture of my new truck, because ever since I picked it up, it's been caked with salt from all the bad weather. A good friend of mine who works near here over on Black Canyon Highway, is supposed to drop by a little later to see the new truck and to visit with me a while, since it looks like I'm going to be spending the night here again.
This truckstop used to be a Circle K, back in the bad old days (2 years ago!). It was dirty and disgusting, just like all Circle K truckstops. Now it's a Pilot, and they've done a good job of cleaning it up, but the parking lot is far too small for a major city like Phoenix, so there are traffic jams in and around it all day and all night. I'm lucky to have gotten a place, and even luckier it has Park 'N View, a system where drivers can get phone and TV in their trucks.
I miss the old Roadrunner T/S that was here years ago. It was an old and funky place, which still had the decor of the late '50s. It was a pretty trashy place in it's day, also, but it was an "old timey" truckstop, like the Triple T outside Tucson, although the Triple T has been remodeled several times over the years.
January 25 - Blew a fuse, lost the load
I picked up the load in North Hollywood last Friday, headed for Columbus, Ohio to deliver on the 26th, but after a long and lazy weekend, I rolled into Joplin to spend the night, and in the process of making a simple repair to my trailer, our maintenance department managed to blow a 40 amp fuse, and my dash panel AGAIN in the process. Since it was 3:30 a.m. and I didn't feel like staying up all night with it, I traded my Columbus load for a Memphis that delivers on Wednesday, and then went to bed. When I got up this morning and got the truck checked out, it turned out to be simply a second fuse that was blown, but it was too late to get my previous load back. That little glitch cost me about $400 in lost miles. At least I got the truck turned back up to 70. I hope I can handle the pressure. HAHA. This will be my last entry before I get home, and during my days off I hope to get some of the rest of the site up and running.
February 8, 1999 - At the Giant T/S, Jamestown, NM
Back at the Giant Truckstop where I spent the night last night. The Giant is a really nice facility with 3 or 4 restaurants, private showers, it's own Post Office, Barber shop, etc. I had a belgian waffle for breakfast. It's Monday morning and I am really behind. I stayed home longer than I had planned due to medical problems, and it turns out the medicine the doctor gave me made me feel even worse, so instead of a leisurely trip to Nevada, I'm behind schedule today and I really have to hustle, although I still have plenty of time. I don't have to deliver until 12:30 mountain time tomorrow. The picture below is from January when I was sitting in Phoenix and got the truck washed. That was when it was new... it will never look like that again.
February 9, 1999 - Reservations for Donner, party of 21
Donner Pass is closed, trucks are parked on top of trucks, and everyone is upset, except the ones who have found a good excuse to spend a little time in the casino and/or bar. I have no load, just waiting patiently here in Sparks, NV.
February 10, 1999 - I'm out of here
Apparently no freight for me here in the Reno area, so they are sending me south to the Los Angeles area to pick up a load tomorrow going to Alabama. That will be another 2000 mile run, so the rest of my week is pretty much set. If I can get loaded and out of L.A. before rush hour tomorrow night, that will be a bonus, but since I'm expecting it to be what we call a "floor load," I'll probably be tied up with it all day. That's life in the trucking business.
February 13, 1999 - Perfect day for trucking
I made it down to Vernon, CA with only minor problems on the passes on U.S. 395 down through Bishop, CA, and I lucked out on this load as it turned out to not be a floor load after all, but it's on pallets, and only 9, so I was in and out of there in 15 minutes and totally missed Los Angeles rush hour traffic. It's a light load, so it's been great running except for the winds around Fontana, but I made it through that also without incident. Right now I'm in Van Horn, TX checking my mail and doing this update. I figure I'll run into the Dallas area tonight and I might stop there for the night, or go on a little farther to make tomorrow an easier day.
February 15, 1999 - T and A at the T/A
Welcome to the T/A Truckstop of Montgomery, AL, home of whores and drug dealers who begin scurrying about as soon as the sun goes down. The last time I was here in Montgomery, I got a motel room across the street, entry to which required a magnetic card inserted into no less than 3 consecutively locked doors, such is the neighborhood. The C.B. radio crackles with offers of "commercial company," and a walk across the street to the adjacent Waffle House restaurant last time I was here resulted in my being accosted by a gentleman who mumbled an offer of some "go fast," a trucker's slang for speed. I would point out that drug use by professional drivers is at an all time low, and the public should not be concerned, I only mention it to point out what a disgusting area this is. This particular truck stop used to be part of the '76 chain, but like all the others it is now a "T/A". They got to keep their non-chain restaurant, called The Heritage. Sometimes they have good food, but today for lunch I had a vegetable plate which contained instant mashed potatoes, instant gravy, overcooked green beans, and nearly burned cornbread muffins. The squash however appeared to be fresh and was good. I just heard a driver on the C.B. ask "Are there any good looking whores down at the T/A?" *Sigh* I'm glad I don't have to spend the night here.
This morning I delivered my load to a warehouse which requires drivers to "assist." This place is like a grocery warehouse, except it's cheap crap that goes to dime stores around the country. I only had on 9 pallets, but the merchandise was stacked 3 layers high, and they wanted it stacked 2 layers high, so it had to be "broken down" as they say. The lumper service (unloading service) charges a flat fee of $60 to do any work here, and since it was only 9 pallets, I decided to do it myself. It only took about 30 minutes of actual work, but the standing around waiting for the stuff to be labeled and wrapped ended up taking nearly 2 hours. The company I work for would pay the service the $60, but they won't pay me that much, I think I will get about $25 for doing it. Could someone explain that to me?
February 18, 1999 - Tour cut short
After delivering my load of merchandise to two stores in the Dallas/Ft. Worth area, I decided to come home sooner than usual, for personal reasons. I'll be home for a few days and then hit the road again for the rest of February.
February 24, 1999 - Rested and ready
I'll be going back to work on Friday the 26th. Hopefully I can get at least one good long run to make the pay period. After a discussion with my fleet manager about my (critical) comments about unloading pay, I realized I should have pointed out that it's standard practice in the industry to pay a "lumper" more than the driver would get paid for doing the same work. One reason for that is that each company has a pay scale for various types of unloading work, while lumper services usually have a different scale. The company pays whoever does the work, and sometimes there is a discrepancy. However- it was brought to my attention that the reason that the company I work for is willing to pay the lumpers more, is that they don't want their drivers to do any unnecessary unloading. They'd prefer that their drivers be resting. Sounds good to me!
February 27, 1999 - Good News/Bad News
Went back to work on Friday as planned, but apparently freight is still a little slow, as I did not get assigned a load, but rather ended the day still number 4 on the ready board. I got assigned a load about noon today, that's the good news, it's going to Nogales, AZ, a nice long trip and a nice place to drive to. Then the bad news, after arriving at 3 p.m. for a live load, at 11 p.m. it was still not ready, in fact only half loaded, so I told them to take it to the drop lot when it's done, I'm going to bed. I'll get it in the morning.
March 2, 1999 - Spring along the Border
It's hot and dry here in Nogales, AZ, with spring yet to officially arrive. It's too dry for any flowers to be in bloom yet, it still looks like forest-fire weather here. I just heard on the news that it's been one of the dryest winters in Arizona history. Anyway, freight is very slow here. This seems to be a running theme this year. I was number 17 on the ready board when I got here at noon today, and now it's midnight and I'm still number 12. Looks like I'll be spending most of the day tomorrow sitting around.
March 10, 1999 - Who's on first?
I swear this business can drive you crazy. I was going from Laredo, TX to Loudon, TN, and during my overnight stop in the Dallas area, I got a message requesting I swap loads with a truck who would meet me in Memphis, where I was planning to overnight and take care of some personal business. So I get to Memphis and call in and the day shift is gone, and the night shift has no idea what's going on, and to make a long story short, he gets my load and I get nothing. Back on the ready board, waiting.
March 13, 1999 - Misery loves company
Florida in general is one of those places where truckers are frustrated a lot of the time. It's hard to get a load out of Florida, because there is a great imbalance between what comes in and what goes out. There isn't much manufacturing here, nor is much material imported here and then shipped out. Many drivers have to leave empty and get freight somewhere else. I am currently in Jacksonville at the T/A Truckstop on the west side of town, which is another of those festering spots where drivers tend to bunch up with nothing to do. Although there is not the problem with prostitution here, there is the general slovenly attituded that pervades Florida culture. Translation: it's dirty here, and the people are lazy. When I took a shower in the truckstop last night, there was hair all over the floor, and all over the sink. This morning when I went back in to take another shower, because I am STILL here, I was assigned the same shower room, and the SAME hair was on the floor and sink, along with some substance I don't want to think about crusted on the toilet seat. This time I went out in the hall and grabbed the broom propped against the wall next to the reclining attendant, and explained I wanted to sweep out the hair that was on the floor. He stammered that he had just come on duty, and the guy before him didn't sweep before he mops. I told him that the floor had not been mopped since the day before, because the same hair was in the same places as the day before. He had no answer, nor did I expect one. He just stared at the pile of stuff I had swept up. I just handed him his broom back and slammed the door.
March 16, 1999 - Beware the Ides of March
I stopped to eat supper at the Flying J Truck Stop in Walton, KY tonight after an easy day of driving. I ordered the Chicken Parmesan, because it came with an order of spaghetti. When the food came, I cut the corner off the chicken breast... mmmm.. crispy and delicious. I cut another piece and popped it in my mouth and it seemed juicier than chicken ought to. I turned it over and it was pretty much raw. Oh they were nice about it, replacing it as I asked with a plate of plain spaghetti and mostly no-charging the meal, but I worried all that night and the next day, as chicken is one of the most dangerous things you can eat when it's not properly cooked. The more you know about chicken production, the less you'll want to eat it.